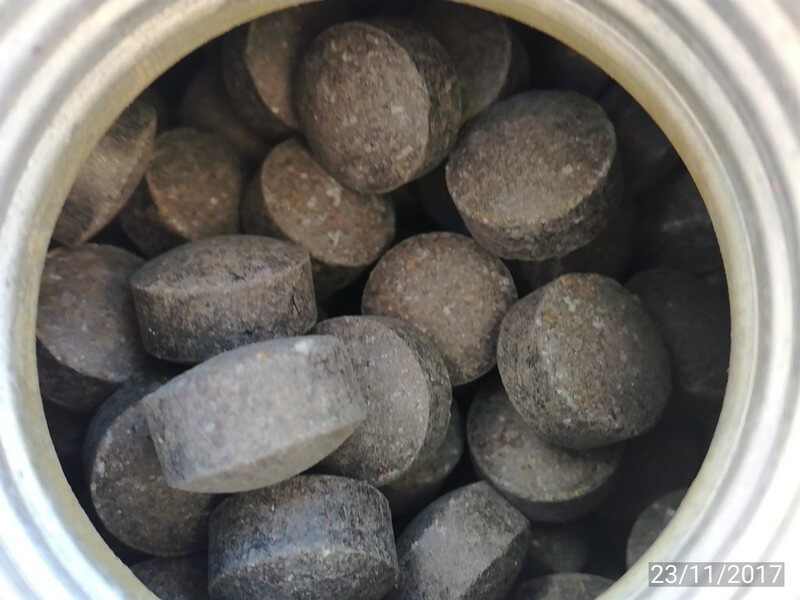 Fumigation
Send request
Fumigation is a service aimed at combating pests which may be present at plant products. Such measure allow protection of grain, legumes, dried fruits, nuts and other products from damage by insects and rodents during storage in silos of elevators and warehouses, as well as during cargo transportation by grain carriers, containers and ships.
Every year the farmers are facing damages caused by grain pests from 7 to 25% of the total harvest. The actual or possible presence of grain pests in various agricultural goods during their transportation and storage are additionally regulated by the quarantine legislation. That is why the measure to combat pests damages are essential for this agricultural product.
CISS GROUP provides fumigation service for agricultural holdings, elevators, trading companies at any part of the supply chain around the world.
We use only effective chemicals and high quality equipment. Cargo handling is carried out exclusively in special personal protective equipment.
Our specialists are properly trained and certified to carry these jobs and are required to follow strictly instructions on working with fumigating agents, equipment, as well as instructions on first aid.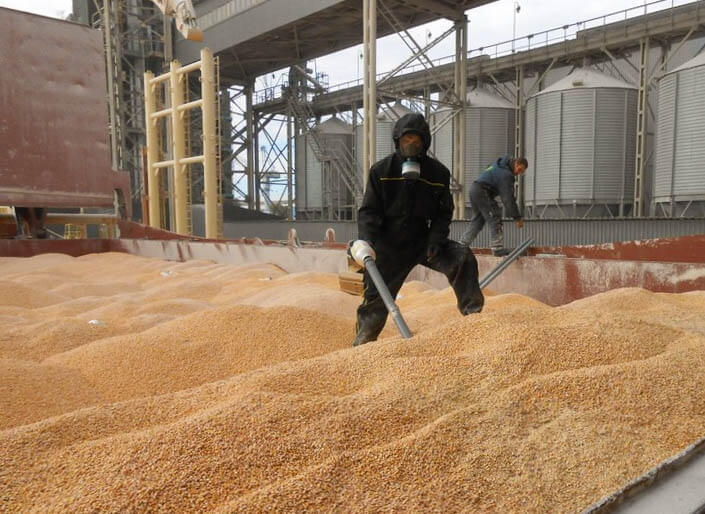 Fumigation can be carried out by various methods such as short, deep or combined sounding (introduction of a fumigant in the form of tablets or granules into various layers of the stored cargo using special probes) or by gassing (using a hot or cold fog generator), in which the fumigant gas does not remain on the grain, therefore allowing the treated goods for further consumption or processing for food.
The fumigation of the grain can be performed during storage - in warehouses for example - as well as during transportation (vessels, rail road wagons , trucks, containers, big bags, etc.).
Disinfection of transported grain in the holds of ships is carried out by the method of recirculation or the so-called phytoexplofumigation. During recirculation method the fumigant forms a gasous suspension which is distributed throughout the interior of the bilge space using a special recirculation system. Phytoexplofumigation disperses fumigants into the cargo throughout specially placed perforated gas distribution pipes, which are vertically immersed in the grain after the end of loading.
At the end of the required exposure period, the vessel's ventilation openings must be opened and degassing is carried out. Sometimes this process may be subjected to the local regulations in force.
CISS GROUP also carries out fumigation of cargo in grain carriers, wagons, containers.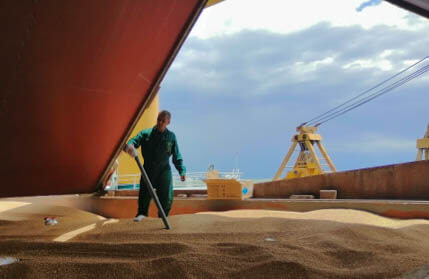 CISS GROUP specialists use appropriate equipment and techniques to scare away, catch or eliminate rodents during deratization. Most often, various traps are used for this purpose - plastic, metal, mechanical and adhesive. Ultrasonic and acoustic devices are also used to scare away mouse-like rodents.
Photo and video report.
The fumigation process is recorded on photos and videos. All materials contain the date and time indicated on them. Upon completion of the work, CISS GROUP provides the client with a detailed photo report of all stages of the process.
Certificates.
We issue certificates based on the results of fumigation. The client can check the authenticity of our documents using a unique QR code, which is the "key" to the CISS GROUP website, where pdf versions of certificates are stored. Our certificates are protected with a digital cryptographic signature, which also guarantees their authenticity and security.
Digitally signed certificates are often required by banks to verify the integrity of trading process when financing trade operations through letter of credit.
Send request