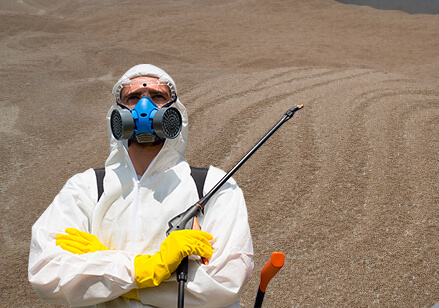 Grain aeration
Send request
Aeration is a set of measures aimed at combating small rodents, insects and plant pathogens that spoil the cargo during storage, which leads to significant financial losses. Furthermore the rodents themselves are sources or carriers of infectious diseases.
CISS GROUP provides gasification services to agricultural holdings, elevators, trading companies at any part of the supply chain around the world. We use only effective chemicals and high quality equipment.
CISS GROUP specialists follow very strict instructions on how to work with the chemicals and equipment used. Safety of both CISS personal as well as as environment safety is our first priority. Aeration process is carried out exclusively in special personal protective equipment.
Aeration treatment can be applied to the facilities such as warehouses, mills, elevators as well as to cargoes itself- for example sugar, cereal and tobacco. All these can be treated with aseous preparations, followed by their sealing for a required period of time.
Aeration is carried out with the obligatory temperature regime. The process can not be carried out in the temperature below 0 ° C or above 35 ° C. In the hot season, gassing works shall be carried out at the earliest time of the day.
The standard procedure consists of several stages. First, all windows and doors are tightly closed, then gas is sprayed over the entire area. At the end of the work, the specialists leave the treated room and close it for 3-5 days. At the end of required gassing time, the treated space is degassed by natural or artificial ventilation.
The effectiveness of the gassing procedure depends highly on air tightness of the treated space. If the building is an open structure with the air tightness doubtful then such building or space must be covered with gas-tight materials for the duration of gassing.
Photo and video report.
The fumigation process is recorded on photos and videos. All materials contain the date and time indicated on them. Upon completion of the work, CISS GROUP provides the client with a detailed photo report of all stages of the process.
Certificates.
We issue certificates based on the results of fumigation. The client can check the authenticity of our documents using a unique QR code, which is the "key" to the CISS GROUP website, where pdf versions of certificates are stored. Our certificates are protected with a digital cryptographic signature, which also guarantees their authenticity and security.
Digitally signed certificates are often required by banks to verify the integrity of trading process when financing trade operations through letter of credit.
Send request